SigmaViewer is a DICOM Viewer available in three versions: local, wado supplied within the WebServer module and DicomDir for use on mobile devices such as cd, dvd or usb key provided on MediaL, medium or MediaXP modules.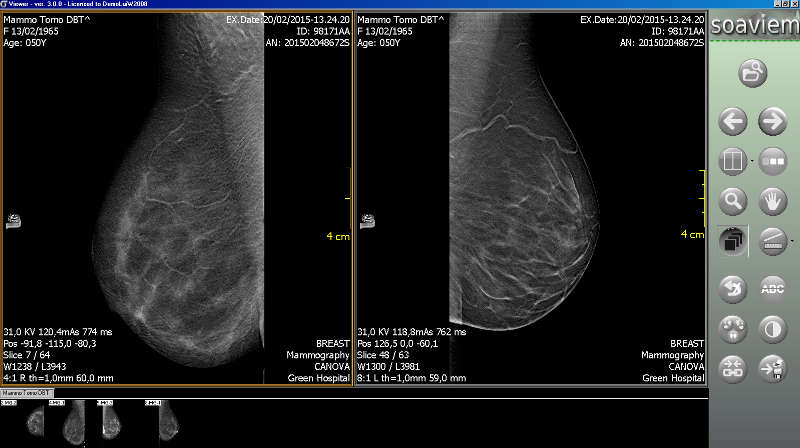 Features availbale in all versions:
-W/l –Zoom -Pan -Rotate 90 degree step -Flip Horizontal and vertical -Angle calculation, distance along a line, circular, elliptical, square and rectangular ROI according to DICOM tags inserted by the device that generated the image
-Printing on system printer (also in 1:1 size) via film composer. -Export of images in jpg, bmp, png, tiff _-Custom annotation and standard texts contained in DICOM tags. Other functions:-link/unlink series with automatic display -Scroll -Scout lines -Preview image -Turbo scroll -Inversion of gray levels -Display normal -Select studio, series or images -Hide overlay -Cine and autocine in unlink mode.

Features available only in some versions:
-DICOM Print  and multiplanar reconstruction (MPR) with MIP, mini Prism and AVG functions (local and wado)
-Managing AutoDownload, notes and reports (Remote)

All versions are native for windows os but, thanks to wine, they run also on linux and Mac.

Download a free demo ( DicomDir version) (Unzip the zip file to your desktop or other folder and double click on SigmaViewer.exe to run it)

If you wish to display images created by other systems copy the dicomdir file and the directory that contains the images in the root folder of the DicomDir Viewer. The only difference from regular licensed version will be the message on the top bar.